FORMULA HF3 platform test systems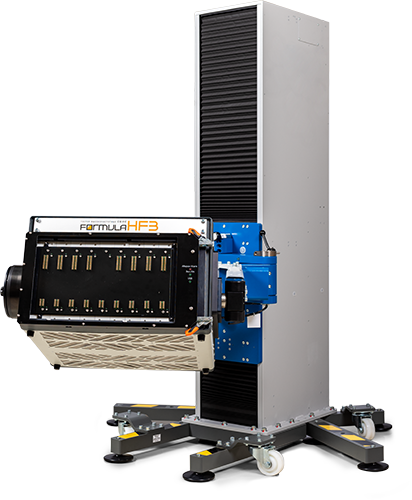 FORMULA® HF3 platform test systems
FORMULA® HF3 platform test systems come in two models – FORMULA® HF3 and FORMULA® HF3-512 – and are designed for functional testing of a wide range of high-speed VLSI circuits: logic; microcontrollers; memory; ASICs, FPGA and others with up to 256/512 signal outputs and operating frequency up to 200 MHz.
Purpose and application
The FORMULA® HF3 Test System is an ATE for functional and parametric testing of ultrahigh frequency VLSI circuits.
The applications for FORMULA®HF3 are:
wafer sort and final test of serial VLSI circuits,
studies of newly developed types of VLSI circuits,
incoming inspection.
The FORMULA® HF3 meets the requirements of metro­logical standards in measurement and testing in micro­electronics.
Basic technical characteristics and functional capabilities of FORMULA®
The FORMULA® HF3 Test System was created for reliable measurement and testing of a wide range of VLSI circuits.
The key technical characteristics of the test systems are defined by the following values:
The FORMULA® HF3 Test System is a functionally complete automated means of measurement for VLSI circuits and provides:
Functional test frequency – up to 200 MHz per pin
Number of universal bidirectional pins – up to 256/512
Vector/error memory depth – up to 64 М/64 М vectors per pin; 1G vectors per board
Overall Timing Accuracy (OTA) – not more than ±350 picosec.
High readiness of equipment for measurements and tests
Automation of all stages of the measurement process and data management
Operating modes with auto­mated probes, handlers, test equipment and instruments
High-speed Multisite mode
User-friendly, fully functional software
Quickly interchangeable load­boards
Automatic diagnostics and metrological calibration
Reliability in round-the-clock operations
FORMULA® has modular bus architecture that implements the principle of custom configuration of equipment with a choice of primary and secondary devices corresponding to the range of measurement and testing tasks.
Technical advantages
The hardware, software, design and technological solutions realized in the systems provide characteristics and properties vital in making measurements, and in performing production tests and incoming inspection of VLSI circuits.
The test systems make it possible to perform comprehensive testing of a wide range of VLSI circuits.
Basic FORMULA® HF3 subsystems
1.
The functional testing subsystem with 256/512 pins and frequency up to 200 MHz per pin includes:
A test pattern generator for functional testing of VLSI circuits
An algorithmic test pattern genera­tor to test highspeed memory ICs
2.
High capacity vector memory depth (64М per pin) and in-dependent error memory depth (64М per pin), as well as support for all standard commands, make it possible to create functional tests of practically unlimited volume, providing thorough test coverage in the verification of VLSI circuits.
In order to support testing of DFT ICs, the FORMULA HF3 test systems provide a scan mode with shared vector memory up to 1G per PIN-board.
3.
The characteristics of the signals of the ATE universal pins ensure high-quality measurement of VLSI circuits and fully meet the requirements for signals at the functional test frequency of 200 MHz:
Minimum pulse rising and falling edge duration – (0.7±0.15) ns;
Minimum pulse duration – (1.65±0.15) ns
One distinctive feature of the FORMULA® HF3 test system pins is that the signal characteristics the rising edge and minimum duration of the pulse are not dependent on the amplitude up to 8 V.
Signals are transmitted without distortion and integrity loss up to a distance of 1 m or more, which is important for certain types of tests.
4.
FORMULA HF3 PIN electronics reproduces three-level signals, including differential ones, in a wide voltage range from –2.5 V to +7.5 V independently for each pin.
5.
The parametric measurement subsystem includes ranges of measurement sources:
| Ranges | Sources | Quantity |
| --- | --- | --- |
| 0…+6 В; ±250 μA … ±4 А | VCC source and measure resource | 16 |
| –2…+15 В; ±200 nA … ±400 mA | VDD source and measure resource | 16 |
| –2…+13 В; ±200 nA …±150 mA | multipin parametric mesaurement units (PMU) | 16 |
| –2…+8 В; ±2 μA … ±32 mA | per-pin parametric measurement units (PPMU) | 512 |
The use of PPMUs enables multisite mode for parallel high­speed testing of ICs on a wafer and in a package.
The high­voltage "33 pin" in each 32-­pin pin-­electronics unit has volt­age up to 15 V and can be used for FLASH and ROM programming, as well as for testing DAC/ADC microcircuits such as operational amplifiers and comparators.
6.
The precision subsystem for measurement of timing parameters of VLSI circuits enables measurement of the propagation time delay of a signal, pulse duration, rising edge and falling edge, as well as other timing parameters of VLSI circuits with accuracy determined on the basis of the following characteristics:
Input Edge Placement Accuracy (IEPA) ±250 ps
Output Edge Placement Accu­racy (OEPA) ±250 ps
Overall timing accuracy (OTA) ±350 ps
Minimum duration of pulse rising and falling edge – (700±150) ps
Minimum pulse duration – (1,65±0,15) ns
Time marker setting increment is 33 picosec
The subsystem is based on the ATE's universal measurement pins.
Use of the FORMULA® HF3 for testing of VLSI circuits under the environmental conditions
The design, hardware and software of the FORMULA® HF3 Test System create optimum conditions for testing microcircuits, including for testing combined with measurements, for example, using ThermoStream units and flow climatic chambers
An original new-generation DIB locker designed for measurements under both room temperature and in the range from –60 °C to +125 °C, was developed especially for the FORMULA® HF3 Test System.
Reliability, convenience, fast installation and replacement of loadboards are achieved by using a precision spring device, special frames and POGO-PIN contacts that guarantee at least a million loadboard connections.
Measurements under temperature effects directly on the spring base, without using cables, and without loss of signal quality are supported.
The manipulator makes it possible to rotate the FORMULA® HF3 test head in 3 axes for hard dock integration with probes and handlers.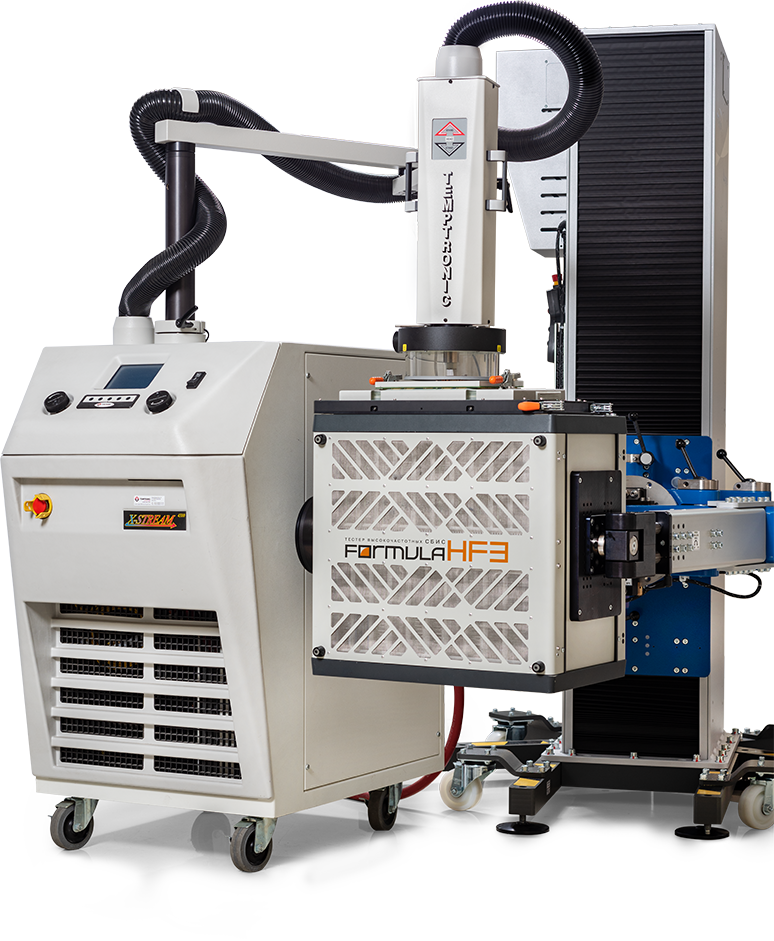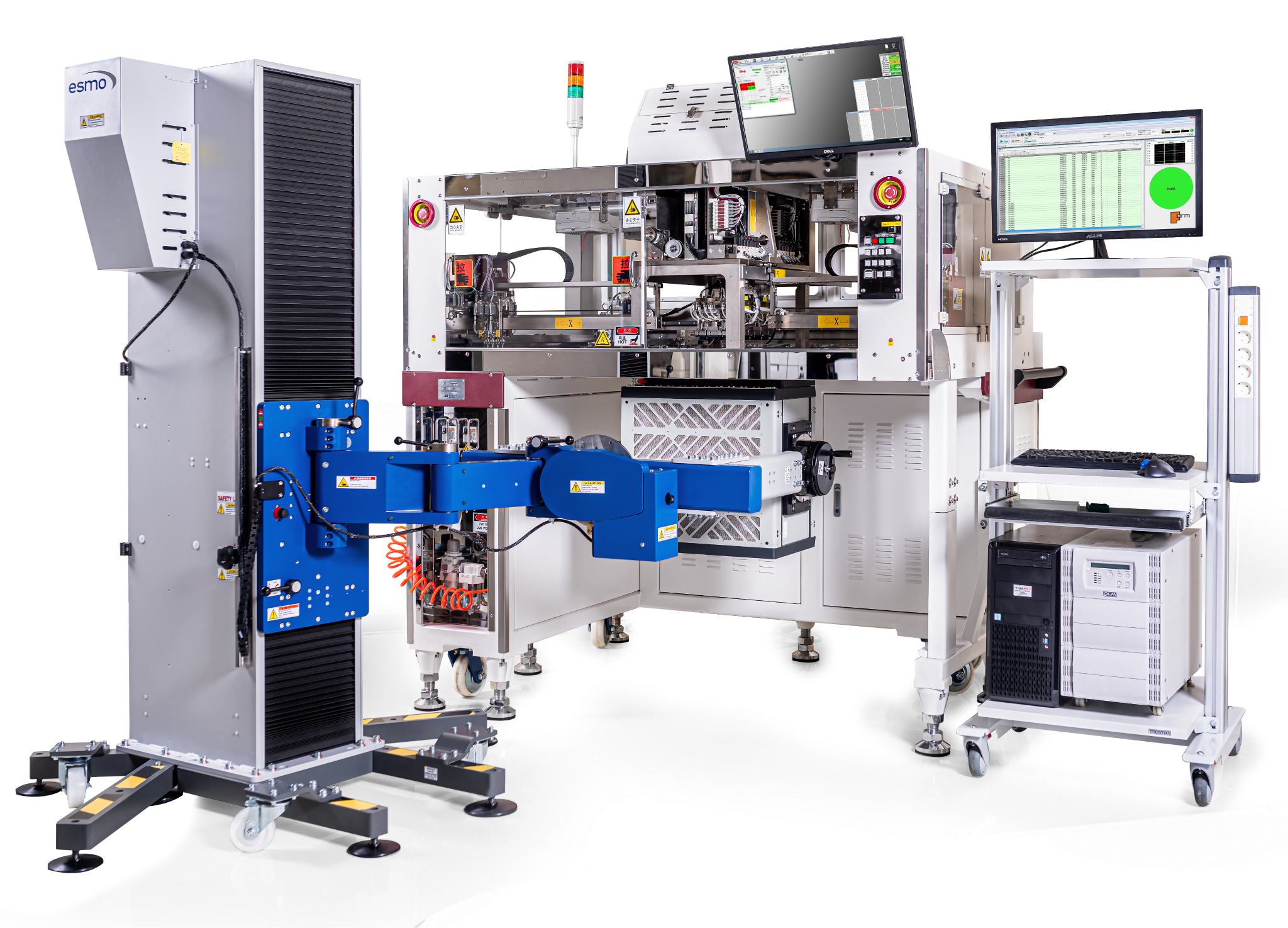 FORMULA® HF3 software complex
The FORMULA® Test System software complex FormHF is the GUI-based environment designed for all stages of the measurement process. Only "5 steps" are required to develop and debug software, perform measurements and analyze deviations
Read more
Loadboards. TestBox Test Solutions
The FORMULA® delivery package includes standard installation frames for test boards and complete documentation for independent development of accessories by the Client.
So that FORMULA® HF3 Test System clients can more quickly achieve their business objectives and promptly see a return on investment, FORM custom TestBox® Test Solutions for measuring specific types of ICs:
on a wafer or in a package
in multisite mode
in manual mode or in automated mode with probers and handlers
under room temperature and under the impact of extreme tempera­tures.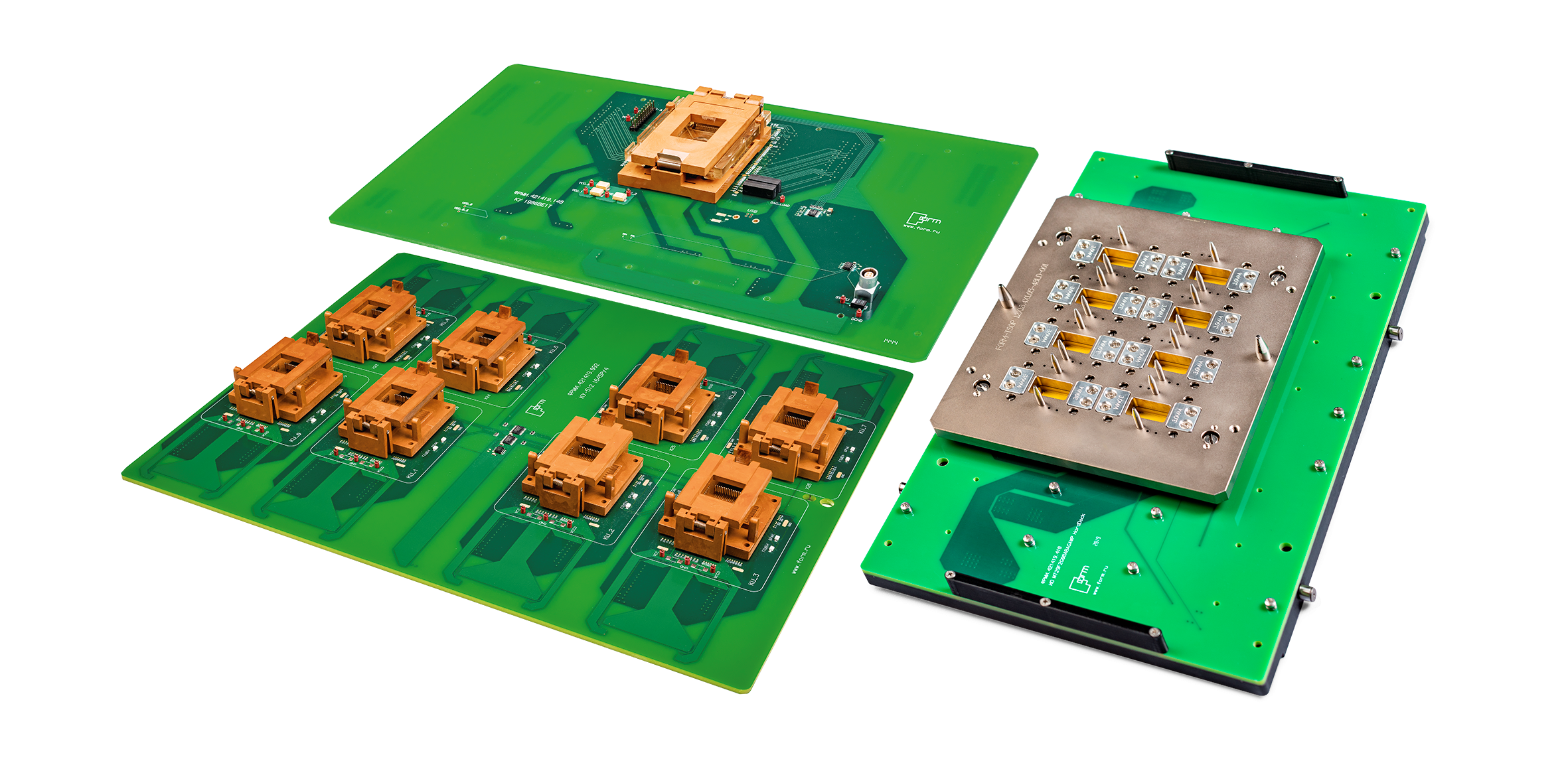 Each TestBox® Test Solution includes:
specialized loadboard for connecting a specific type of VLSI circuit
a disk with test program
a datasheet with operating manual
Manufacturer's warranty
By purchasing the TestBox®, Clients can significantly reduce the time required to put their products on the market.
A group of experienced application engineers at our testing laboratory develops designs and software for Test Solutions.
Today, FORMULA® Test System Clients, providing consistent metrological support for quality control of electronic components, use more than 550 types of Test Solution already developed.
Manufacturer's services
To reduce the Client's time and costs for support work, FORM offers the following technical services to FORMULA® HF3 Test System Clients:
Integration of FORMULA® HF3 Test Systems into the Client's technological, informational and testing infrastructure, with connection of external equipment, instruments and IT networks
Organization of workstations based on FORMULA® HF3 Test Systems with a database for ensuring traceability of measurements
Maintenance, repair and metrological services
Expansion of the ATE configuration according to a list of typical options, or with custom development of options
Delivery composition of FORMULA® Test System
The FORMULA® HF3 Test System has modular bus architecture and allows for custom hardware and software configuration based on an analysis of the Client's tasks, requirements and preferences, and is reflected in the Delivery Specification, as well as in the data sheet for each Test System. The delivery set includes complete operating, metrological documen­tation, and an initial calibration certificate.
Manufacturer's warranties and operator support
FORMULA® Test System warranty service and maintenance in operations are provided by the developer and manufacturer, FORM.
At the end of the warranty period, FORM offers Clients a service contract and provides technical service and metrological service upon individual Client request.
The hardware warranty is 1 year and provides for free visits by engineers to the place where the ATE is operated for warranty repair and unscheduled metrological calibration.
The FORM technical support service provides FORMULA® Test System Clients with the following unlimited free services:
Consultation via telephone, email and fax, during terminal sessions
Methodological assistance in complaint analysis
Remote ATE diagnostics with fault detection
Updating of software versions
Arranging for maintenance and repair
Information on new ATE options and new Test Solutions