FORMULA HF3 platform test systems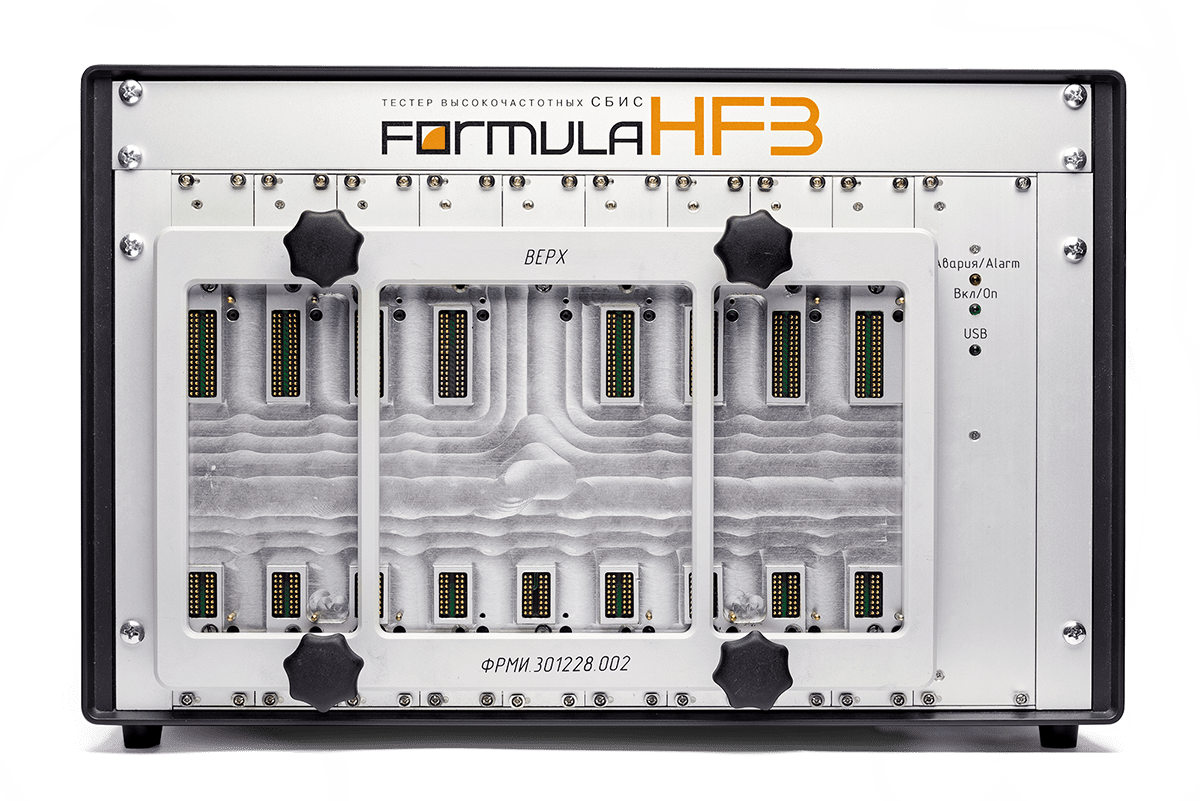 FORMULA® HF3 platform test systems
FORMULA® HF3 platform test systems come in two models – FORMULA® HF3 and FORMULA® HF3 512 – and are designed for functional testing of a wide range of high-speed VLSI circuits: microcontrollers; static and dynamic memory; masterslice VLSI circuits; ASICs, FPGA and others with up to 256/512 signal outputs and operating frequency up to 200 MHz.
Purpose and application
The FORMULA® HF3 Test System is an ATE for functional and parametric testing of ultrahigh frequency VLSI circuits.
The applications for FORMULA® HF3 are quality control of VLSI circuits, testing and studies of newly developed types of VLSI circuits, and production monitoring for serial products.
The FORMULA® HF3 meets the requirements of metrological standards in measurement and testing in microelectronics.
Basic technical characteristics and functional capabilities of FORMULA® HF3 platform test systems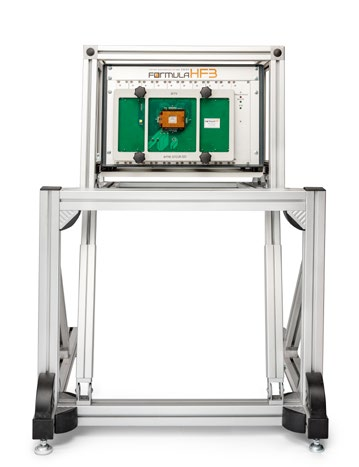 The FORMULA® HF3 Test System was created for reliable measurement and testing of a wide range of VLSI circuits.
The key technical characteristics of the test systems are defined by the following values:
Number of universal bidirectional pins – up to 256/512;
Functional test frequency – up to 200 MHz per pin;
Vector/error memory depth – up to 64 М/64 М vectors;
Overall Timing Accuracy (OTA) – not more than ±700 picosec.
The FORMULA® HF3 Test System is a functionally complete automated means of measurement for VLSI circuits and provides:
High readiness of equipment for measurements and tests
Automation of all stages of the measurement process and data management
Operating modes with automated probes, automatic loaders, test equipment and instruments
High-speed Multisite mode
Reliability in round-the-clock operations
User-friendly, fully functional software
Quickly interchangeable test fixtures
Automatic diagnostics and metrological calibration
FORMULA® has modular bus architecture that implements the principle of custom configuration of equipment with a choice of primary and secondary devices corresponding to the range of measurement and testing tasks.